Scenic Designer / Illustrator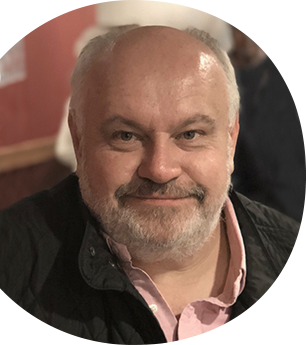 Scenic Designer / Illustrator
Ian studied Theatre Design & The Creative Arts at Nottingham Trent University where he gained a 1st Class degree. His first shows for Lord Bernard Delfont was on the Lenny Henry; The Nolan Sisters; Cannon & Ball and Dick Emery Shows. After seasons at Nottingham playhouse, Leicester and Theatre Royal Plymouth, Ian became resident Set Designer/ Scenic Artist at Theatre Royal Norwich and since 1986, The Cromer Pier variety shows.
Since 1985 his scenery and prop construction Company have designed and created hundreds of operas, musicals, plays, pantomimes, films, TV and corporate productions, Sea life centres across Europe. His designs for world touring arena shows include Michael Flatley's Feet of Flames world arena tour; Evita & Chicago in Lebanon's Amphitheatre. Five world tours for Iron Maiden, Robbie Williams; Pete Waterman; The Spice Girls; West Life; Blur. (Yusuf Islam)-Cat Stevens "Peace Train Hammersmith Apollo and the Tea for the Tillerman world tour. 
Sets for Thomas the Tank Engine arena tour and five Royal Commissions for Her Majesty Queen Elizabeth II at Sandringham House museum and the Queen's Diamond Jubilee National Beacon, London. 
Film location work on Pirate's In The Caribbean (St. Thomas Island) TVs Suffolk Tales. TVs Misfits.  Ellie Goulding- Ex Factor and Game of Thrones. & Disney TV.
Theatre credits include UK and London's West End productions of Proof-Arts.  Horrible Histories; Treasure Island. All the Fun of the Fair-Garrick. Sir Peter Hall's Blithe Spirit– Savoy Theatre. Truth Lies, Diana-Charing Cross. Sangre-Hammersmith Studios. Santa clause & the Christmas Adventure-Ambassador's Theatre. International tours of Friends The Musical Parody and Menopause 2 the musical. Ivan Petrov's "Men In Motion" at The Saddlers Wells.
Some of Ian's most creative set designs are on Cunard's Queen Elizabeth, Mary & Victoria ships. US Celebrity, P&O Cruise ships all featuring his lavish designs.
Since 2006, Ian is responsible for creating a huge portfolio of new pantomime designs for Qdos Entertainments that include the Olivier nominated Cinderella; Olivier winner-Dick Whittington, Snow White and Goldilocks ,Pantoland at the palladium, all at The London Palladium. Art Director on "Six Tapes"  for The Discovery Plus TV channel. AI a new ballet at Saddlers Wells for the Ukrainian Ballet Co. by Ivan Putrove. Dinosaur Adventures Live, UK theatre tour.